About Lisa and The Feline Finders
Losing "Vegas"………….
Finding my purpose and passion:
Growing up as a musician in Little Rock, Arkansas, surrounded by the state's abundant wildlife, I naturally have compassion for all of God's creatures. Being an avid animal lover, I have rescued baby squirrels, birds, rabbits, cats, dogs and even snakes. Although music is still one of my passions, I found another passion and purpose when I lost my cat "Vegas".
It all started with this little black female kitty that adopted me. Due to her small size, we didn't rush to have her spayed. Much to our surprise, she soon became pregnant and delivered five beautiful male kittens. I kept three and named them "Hollywood", "Miami" and "Vegas". "Vegas" was one of a kind. He was my "soul mate" cat. All three boys were indoor/outdoor cats. They loved to climb trees and explore, but would always come whenever I called for them. On a Sunday, May 14, 2006, around 12:00 pm, I called my babies to come inside. All of them showed up at the door except for "Vegas". I called for him all afternoon, but nothing. I knew something was wrong. I frantically searched the woods and my neighborhood for two weeks. This was killing me! I could do nothing else but think about "Vegas" and search for him. I needed help. I needed help soon. I needed search dogs!
I hired a team of search dogs to help me find my boy. The lead dog had no trouble picking up the scent from "Vegas". The scent trail led us to a wooded area, where it appeared something had been traveling. Then the dogs tracked the scent to a storm drainage system. This is where the scent just ended.
Through this tragedy though, there is revelation. I have found my purpose and mission in life. As the saying goes, "When one door closes, another one opens". This is true for me.
This is why I created my business, The Feline Finders. I am now a Certified Missing Animal Response Technician/Pet Detective through Missing Animal Response Network. I'm also a member of the "Association of Companion Animal Behavior Counselors" organization. It is my goal and passion to assist pet owners in finding their lost and missing pets.
On my team, my leading lady is Madison. She is trained in scent specific trailing work and cat detection. Her team partner is Layla. She's a beautiful beagle with a great nose.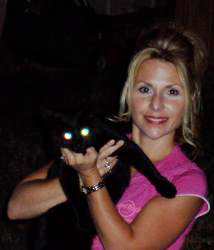 Lisa Willems

Certified Pet Detective
ID # 015-02
Call today for a Complete
Consultation!

Expert Advice and Instruction to help you
find your lost cat!