Lost Cats Found and Reunited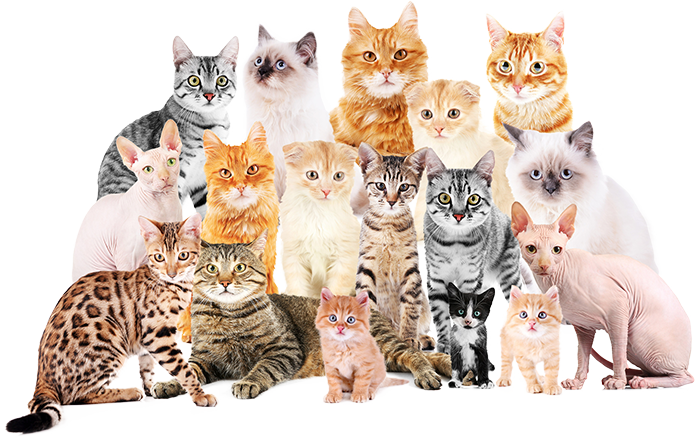 The Feline Finders Reunion Stories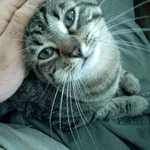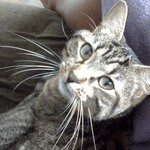 "Rosie" is back home again after "5" days missing!
VERY good news! Little Rosie girl is home safe and seems healthy and uninjured! This morning we got a phone call from the neighbor who let us put the trap in their little backlot area – we had caught a cat that matched her description. Kelly and I both went over and quickly realized it was the same larger male look-alike that has caused at least 5 different people to call us thinking it was her. We turned the poor guy loose and went back home hopeful to try again. Not even 30 minutes later the buzzer for the front door of our building rings… its the super.
"Your cat… I think its in unit #145!"
I rush down and I follow him into the unoccupied bottom floor apartment for 145 jackson (next set of units over from ours). He said he saw her run under the partially assembled floor cabinets in the kitchen. Kelly stays put and I run grab my flashlight. On returning to the empty apartment I shine the light in and sure enough… there is our little one tucked away back in the corner. We coax her out by shaking a small tupperware thing full of her dry food! It turns out that the cleaning crews often leave the front and back doors open while cleaning so its very possible she had been in there this whole time.
Kelly is taking her to the vet as we speak, but besides being extremely hungry and thirsty I think she is OK.
I can't even begin to tell you how instrumental you were in keeping us thinking positive and staying hopeful throughout this ordeal. What a wonderful thing you do for people! I will give you a call again later this evening to lather on even more praise and I am sure Kelly would like to thank you as well – this has all been extremely difficult for her too.
Jarrod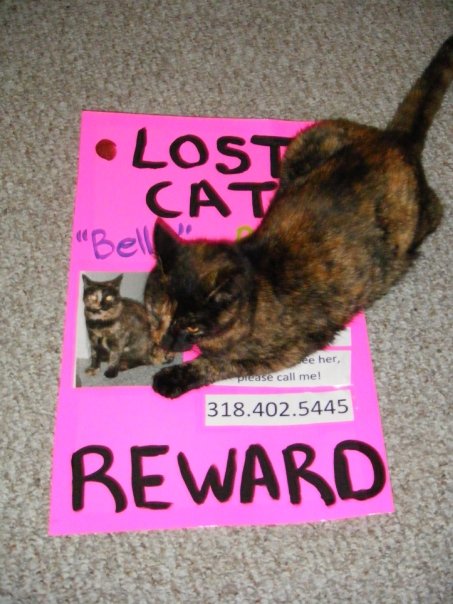 After "31" days hiding in the woods – "Bella" is now safe and back indoors!
Thanks to "Rio", the search dog, who indicated the exact area of the woods that "Bella" had been bedding down ………..
her owner was able to concentrate and heavily focus in this area!
This resulted in the capture and return of "Bella" – the missing indoor-only kitty!
Way to go "Rio"!!! 🙂
Thanks Lisa and "Rio"!!!!
Maggie L.
Sanford, Florida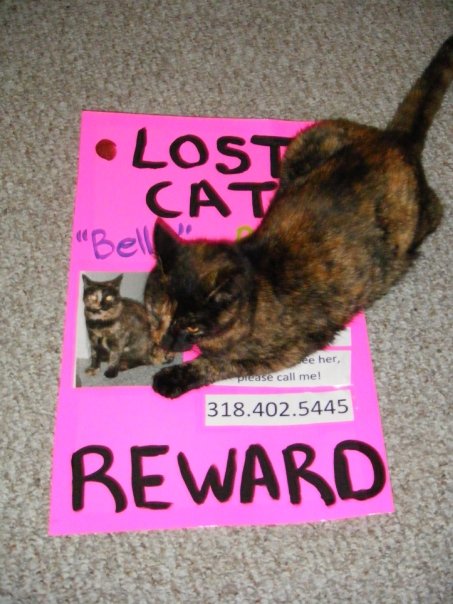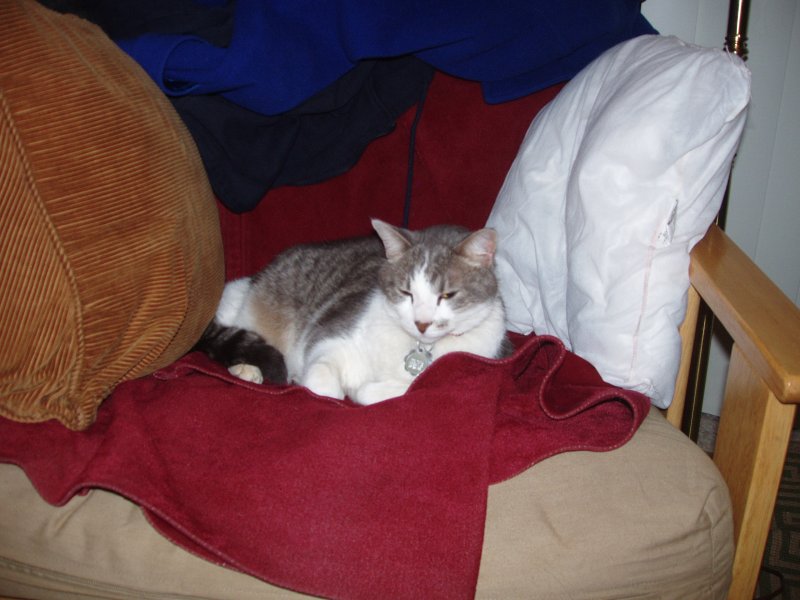 After slipping out the door –
And surviving freezing cold temperatures – "Yogi" is back inside after "27" days!!!
Lisa,
Thanks for having faith when I lost mine.
Yogi must have slipped out the door on Jan 15th, one of the coldest days we had in a few years with highs only in the low teens. I was gone all day and into the evening. I noticed him missing on the morning of Jan 16th when it was zero degrees outside. I had my doubts that an unacclimated cat could survive the cold weather. It warmed up over the weekend into the 40s but no sign of Yogi.
I contacted Lisa on January 21st. She had me making flyers and talking to neighbors. She said she believed he was still alive and would survive the cold. The next few weeks were filled with hopes and letdowns and had lots of dark cold nights. On February 7th after 22 days, I gave up hope that he would ever be found and surrendered completely to my grief. Lisa still had faith that he would surface.
On February 10th the temperature reached 70 degrees. My next door neighbor called and left a message that he saw a cat matching Yogi's description on their deck and again later in their yard. I left work a little early and searched their yard with no luck. I searched again around sunset and found him crouched behind the air conditioner. There was great joy in recovering Yogi. He lost weight from 16 lbs down to about 11 lbs but seems to be OK.
He is happy to be home again and is back in his favorite chair.
Thanks again
Dave
St. Louis, MO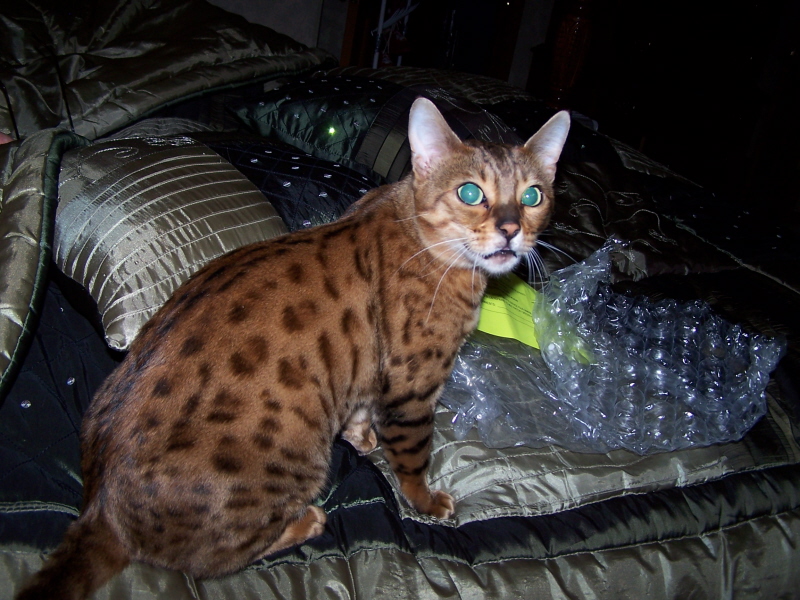 "Mun-Mun" – An Indoor-Only Bengal is humanely trapped after "4" long days!
Hi Lisa,
I still don't have my laptop back (hard drive crash), but I'm using my husband's computer.
Here is a picture of Mun-Mun. Hope you like it!
Maureen
Fox Lake, Illinois
P.S. Have a very Merry Christmas. We will, in part thanks to you!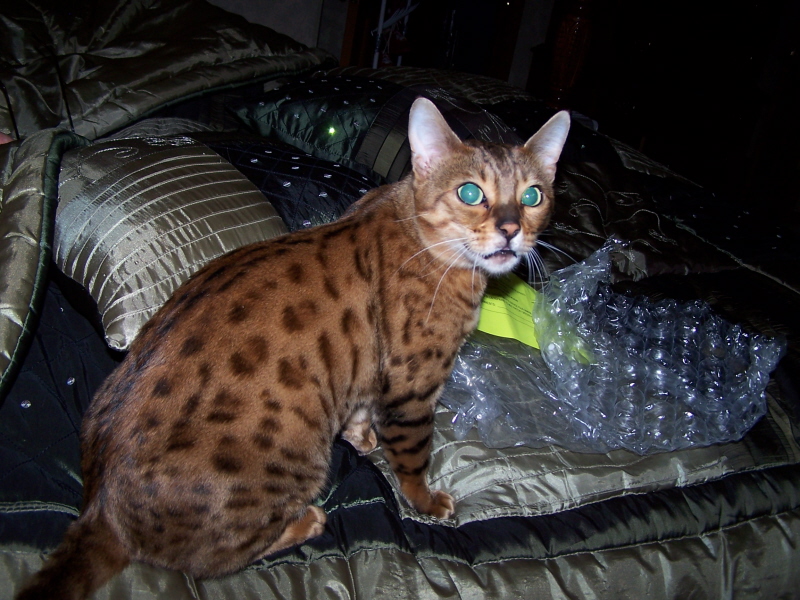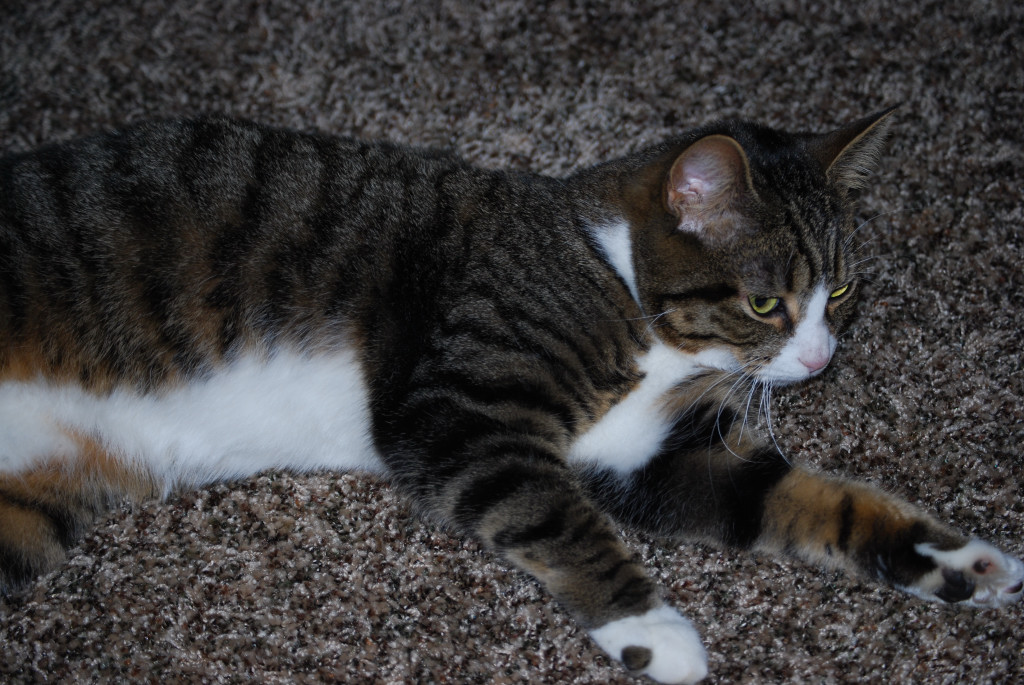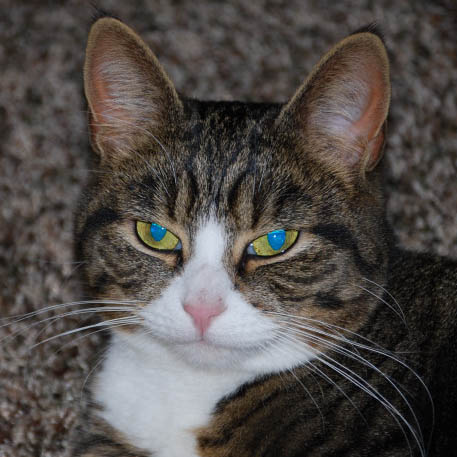 "27" Days Lost Outside –
"Sasha" falls for the "garage" trap and is now safe inside!
Lisa
I do not know how to thank you enough. I fear if you were not in this with me the whole time, I may have given up….I am so glad she is home! She is too, the other cats, well, that is another story! There is all kinds of HISSING going on, but that will cease as they get used to her being here again and she gets her homey smell to her!
I would love to keep in touch, and wish we could meet in person! I so appreciate all of your encouragement, advice and support! Sasha is Home Safe because of YOU!
Warmly,
Nicole and family
Gorham, Maine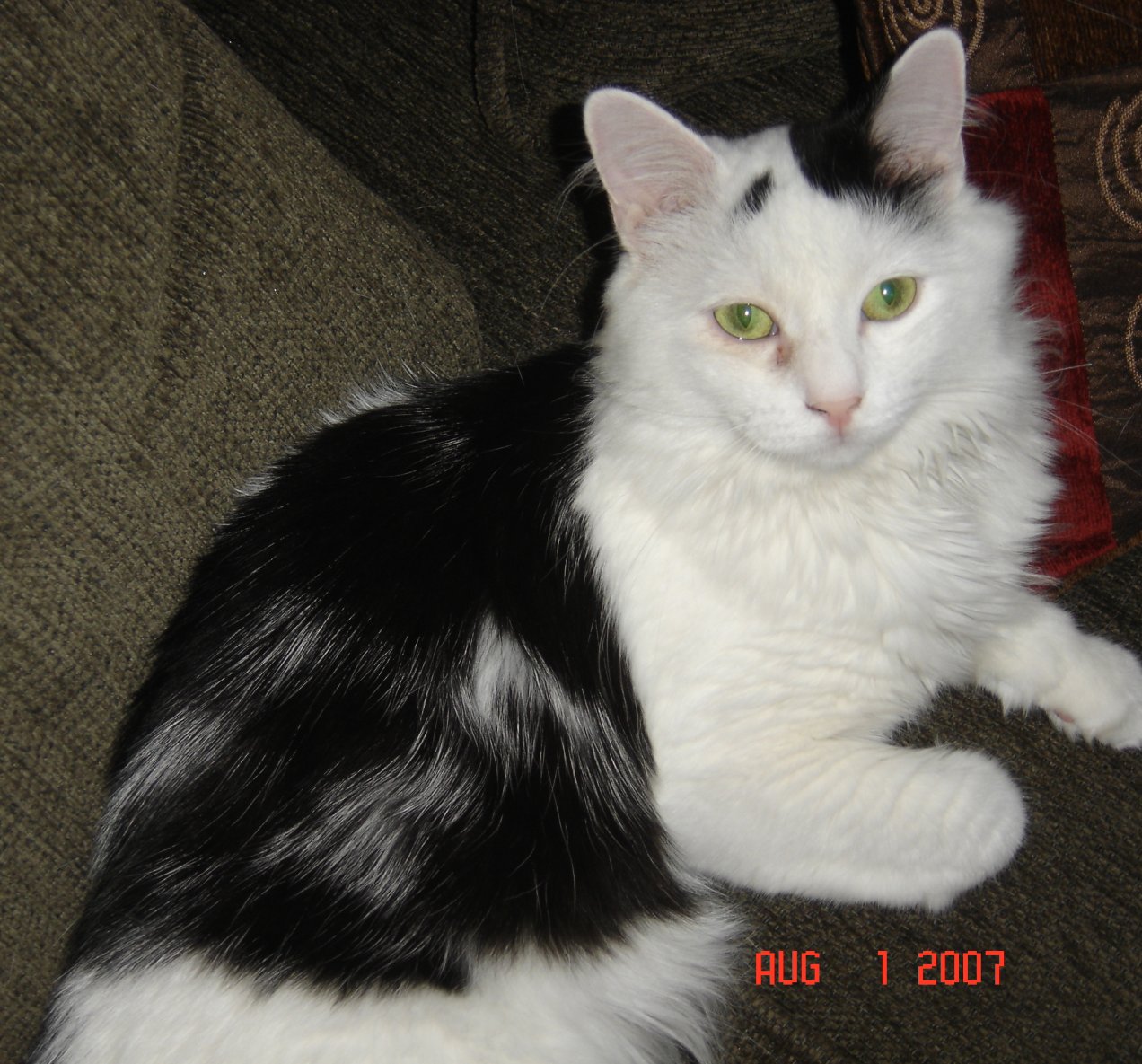 After an "8" day adventure – "Leo" is found!
I just got a call from a neighbor right across the Street from where we've been setting the humane trap, that she thought Leo was on her porch. She is allergic to cats, so she put out a can of tuna to keep him occupied while I bolted over there, and it was him!!!!!!!!!!!!! He's freaked out, but he seems healthy. He must have been finding food somewhere.
"If you have lost a pet, I highly recommend Lisa. She gave me great advice to help find my cat, Leo. But the greatest thing about Lisa was when I got discouraged and started to lose hope, she gave me a "pep talk." She gave me a list of constructive things to do to help find Leo and told me about cats who re-appeared after 20 days, when we were only on day 8. She encouraged me when I was discouraged and gave me hope when I lost the faith!She's not only a pet detective, she's a lost pet owner's therapist! THANK YOU, LISA!"
From Heather and Leo (the cat) – Charlotte, NC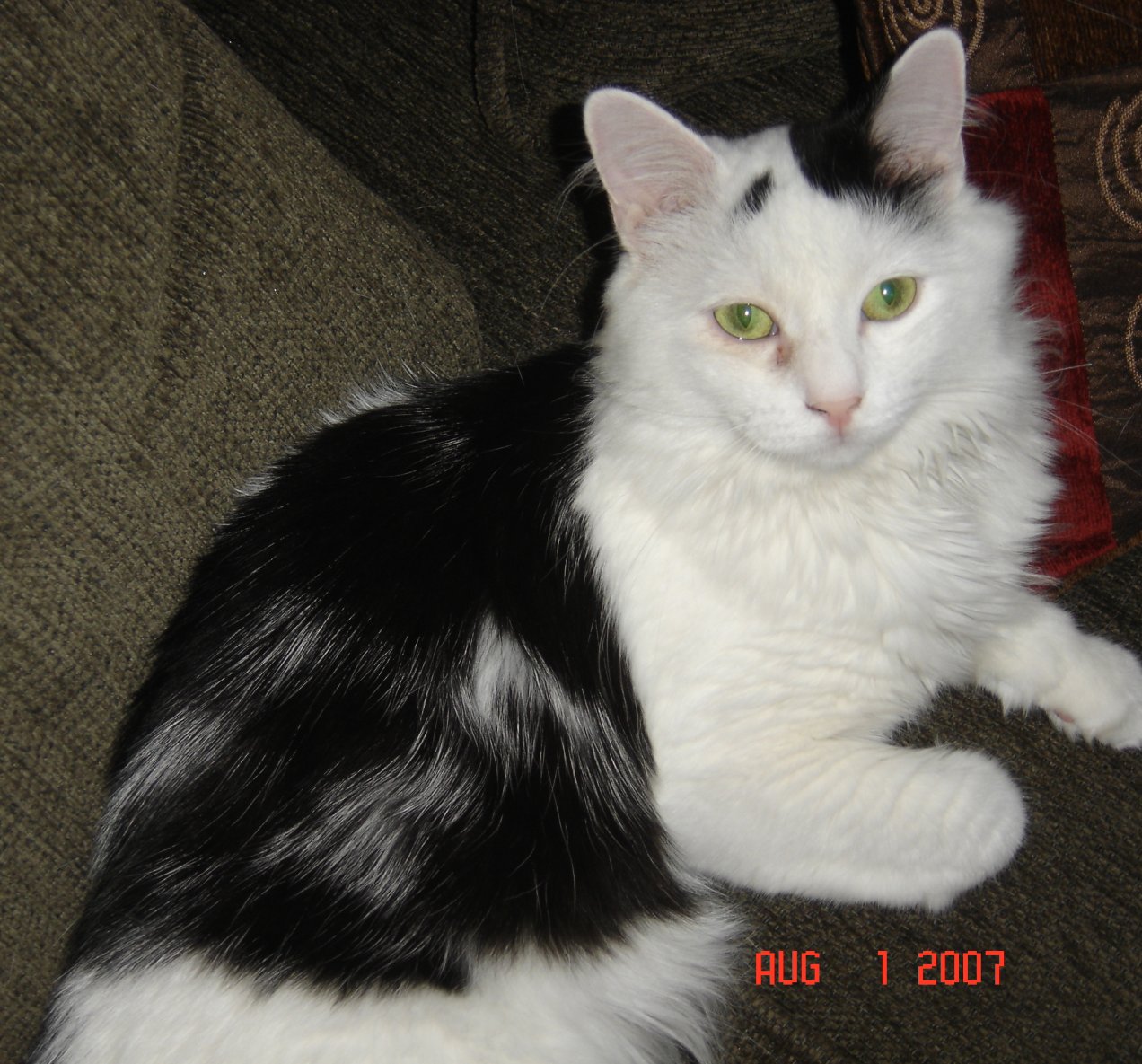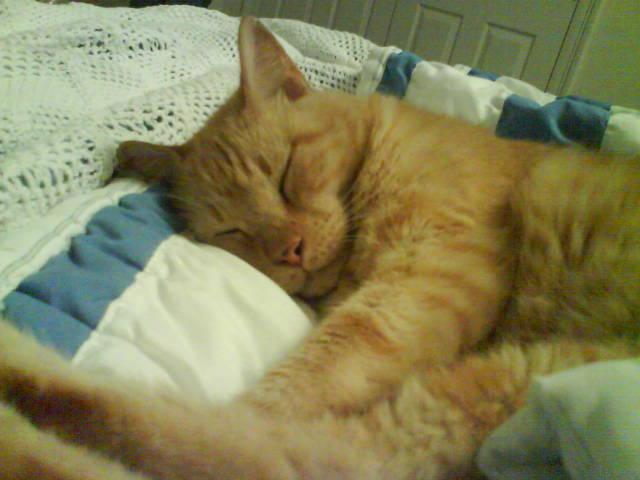 Displaced after escaping from a vehicle – missing for "42" days – "Goldie" is reunited with her owners!
She jumped out of the car the night of Aug. 30
th
/ morning of the 31
st
while we were evacuating from Louisana for the hurricane. She made it to someone's house on Saturday, Oct. 11. They had never seen her before, and I think she was following my scent. Attached is a picture of her before the mishap. She's much skinnier now.
Dear Lisa,
I found Goldie! I had just made another trip into the area and distributed flyers on Friday. I think I saw Goldie outside someone's house then, but she wouldn't come to me. I went to someone else's house nearby, and she showed up THERE on Saturday, probably following MY scent (?).
She finally made it to some people's houses! She would have starved to death!
The nice woman and her husband called the name on their flyer, and Goldie responded and walked into their house. They sent me pictures, but the thing that identified her was her behavior, and the woman being sensitive to her behavior. They kept her for hours, bought a cat carrier and some food, and met me at a gas station late Saturday night, and we took her home.
When we let her out of the carrier, she was just skin and bones! She was sick, so I took her to the emergency vet, where they said she was going to be fine, she was just starving. I had to monitor her intake of food and give her LOTS of attention.
She's happy to be home. She's a little traumatized, but she's going to be OK.
Thank you so much for your help. I wanted to tell you that just TALKING to you gave me the strength to keep looking for her. I was thinking that it was a hopeless situation, because of the vast amount of woods where she escaped at. Talking to you kept my sanity and made me realize that it was NOT a hopeless case! Thank you again.
Cori W.
Slidell, Louisana
"Lucas" is found –
After "3" days missing!
Lisa,
Thank you for getting back to me – I have good news, Lucas was found and is now safe and sound at home. You are right about them moving around day 3 – that's the night he was found peeking inside a neighbor's back sliding door. He was on the far end of our own development and he was indeed hungry to say the least.
We did the posters, walked the neighborhoods, all the usual stuff. But for us we were fortunate to belong to a Home Owner's Association,all connected by e-mail. So the fact that I was able to alert the 100+ homes in my development with a picture was the key for us. The neighbor who saw him knew we were missing a cat and had a description of him and therefore alerted us promptly. Had we not had the e-mail communication, he would have just thought it was another wild critter taking a peek since his house is at the end of the development near some wooded areas and it is not unusual to see wildlife and outdoor cats prowling around the area.
Again, thank you for the information, we will keep it on hand heaven forbid anyone we know should ever need your services.
Sincerely,
Linda
Indoor-only kitty escapes out an open door!
"Tigger" is found after "4" days missing!
(Found October 5, 2008)
Thank you again for your words of wisdom and support………I just found Tigger!!!
We thought we heard a cat around 6:30 but could not see anything and heard nothing else….I just went outside a few minutes ago to start looking and he was on the sidewalk in front of my house. I did not chase him, just got down (like you advised) and kept calling him and moving the food.
He finally came up on the porch……….I picked him up and he looks fine….Thanks again…
Debbie K.
Point Pleasant Beach, New Jersey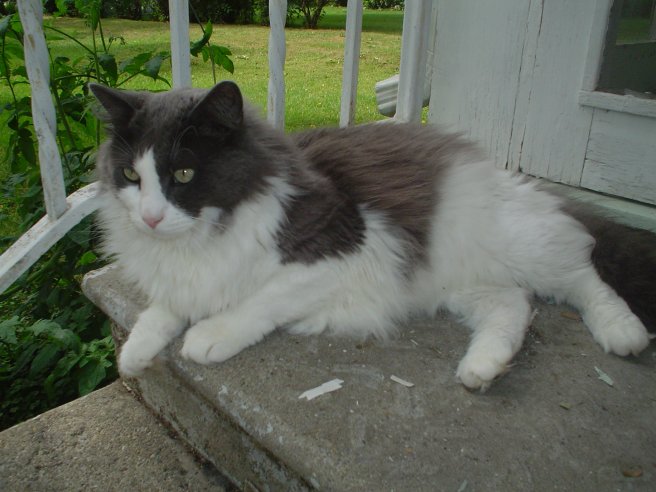 "Larry" returns home after
missing for "3" long days!
Hi Lisa!
Guess what?? Larry's home!!!! 🙂
I was cooking dinner and just happened to glance out the window.. there he was!
We took all of your advice and are pretty sure that it was the tuna juice spray bottle and feeding stations that brought our dear Larry home. I can't begin to thank you enough! You were so helpful with all of your wonderful and original suggestions and most of all you gave us hope and something to do.
Larry and all of us are eternally grateful and will recommend you to all of our friends!
I'm attaching a picture of Larry in case you want to use him as a success story.
Larry says thank you!
Thank you, thank you, thank you!!
Jenny L.
Creston, Iowa
Breaking out of her harness – "Paysley" endured the outside for "22" days!
Originally a feral kitty and somewhat skittish…….when spooked by a noise……"Paysley" managed to wiggle herself out of her harness. Having once been trapped………her guard was up.
She avoided the traps for 2 1/2 weeks!
But then finally………………..she couldn't resist and got in the humane trap!
Welcome Home "Paysley"!
Thank you so much for your time, your counseling and your expertise!
I would not have made it through all of this without your guidance, compassion and wisdom.
You are an angel,
Michelle D.
Old Lyme, Connecticut
Indoor-only kitty escapes out an open door!
"Tigger" is found after "4" days missing!
(Found October 5, 2008)
Thank you again for your words of wisdom and support………I just found Tigger!!!
We thought we heard a cat around 6:30 but could not see anything and heard nothing else….I just went outside a few minutes ago to start looking and he was on the sidewalk in front of my house. I did not chase him, just got down (like you advised) and kept calling him and moving the food.
He finally came up on the porch……….I picked him up and he looks fine….Thanks again…
Debbie K.
Point Pleasant Beach, New Jersey
"Jango" is found – After "22" days missing!
Another indoor only, cautious kitty decides to sneak out. After a "22" day adventure, "Jango" is finally found!
Thank you Lisa, for all your advice and support.
I will recommend you to everyone that has a lost cat!
Thank you again,
Leslie M.
Aberdeen, South Dakota
"47" days missing – "Cinder Fella" is finally sighted and gets into the humane trap!
WOOOHOOO – CINDER FELLA IS HOME.
Hi Lisa,
First of all I have to say THANK YOU. You are the only one who gave me hope that my Cinder Fella would survive this long being away from home even though he is a inside cat and never caught a mouse or anything before. I was giving up hope and you helped me to realize that maybe something instinctual would kick in to help him survive until I could find him.
As it turns out, yesterday at about 4 the neighbors called and left a message on our home number that Cinder was in the trap. HE IS SOOOO HAPPY TO BE HOME, his is talking up a storm, rubbing up against everything, following me around the house. He even meowed a few times last night when I was letting the dogs outside. I think he was saying "Don't go out there, you may not find your way back". He stayed far away from the door. I am extremely happy too. The only one not happy is the other cat that we have. She is glaring at him, hissing and growling a lot at him. I hope this changes. Again, thank you for all you help.
Karen
Franksville, WI
"Lucky" gets lucky after hitching a ride – "27 " days missing……he's back home again!
The lady that found Lucky lives approximately 5 miles away. I don't have her home address but she lives corner of Interstate 215 and Charleston where the Summerlin community comes to an end and there is only a desert beyond that point..
She mentioned that Lucky showed up without a collar about a week ago (so we are not sure what happened for the previous 3 weeks).
She took pictures of Lucky and posted it in the Summerlin community looking to see if an owner would show up..
She mentioned that Lucky was very friendly and always sat in her backyard /garden (as she has a nice big garden) and would roll over to be petted..
Lucky must have been on someone's truck which drove up to that area and he must have started wandering until he found her house where he settled in to get food and water.We may never find out what really happened, so we just count our blessings to have Lucky back with us in our family. Our cat Tiger is also content that everything is 'normal' again. He was quite confused and felt a bit lonely over the last few weeks.Lucky_on_chair
Lisa – your encouragement surely helped us holding on when we were close to losing hope for Lucky's return. I am also so proud of Muk that he continued on diligently with every single effort while I was overseas. We had sighting calls that had him camp out at 4 am a few times, as you recall from his updates.
Right now I am sitting in our garden typing this email, with Lucky sitting across from me in his favorite porch chair. What else can I possibly ask for?
I remember the saying: 'Happiness is a warm kitten in your lap'. Well make that a few pounds more for two fully grown boys, but the joy just increases 🙂
Thanks for all your help and great motivation – we hope that we won't need your help again, but will be sure to recommend you to anybody else who has a need!
Ina
Las Vegas, Nevada
After missing "7" long days – "Buster", an indoor kitty, is finally found!
Hi Lisa,
I found my cat Buster today after searching for 7 days. Thank you for all the information, links and support on your website. The success stories really kept me going when I got discouraged. Thanks again,
Darlene H.
Pleasant Prairie, WI
"Demona" – an indoor only kitty is found after missing for "3" days!
Lisa,
My family and I would like to tell you how grateful we are for all your expert advice and help! All our hope was lost, your reassurance and support was much needed. I wish everybody that lost a pet dear to them was aware of you and your services. Demona was missing four nights and three days until we were reunited with her, you have helped my family in our time of extreme need and we are forever grateful.
thanks for all you do!
Tina, Colorado springs, CO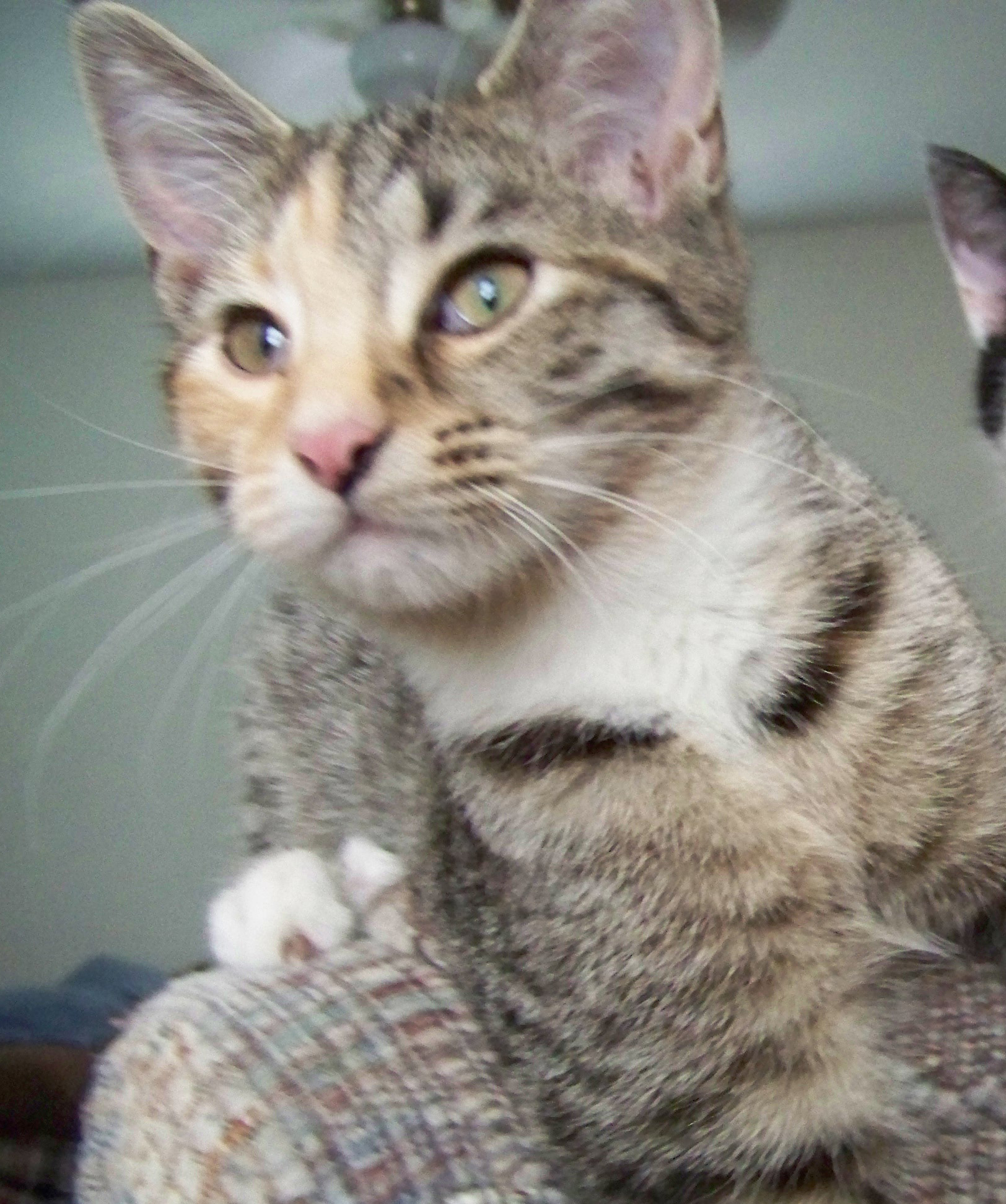 Missing for "30" days – "Diva Muffin" is finally found!
Lisa,
Thank you so much for all your help and support through this horrible nightmare. You were exactly right in saying she would be hiding close by. We can't thank you enough.
Sincerely,
Safiya M.
Columbia, SC
"31" days missing – "Wally" beats the odds and finds his way back home!
Hi Lisa–You will never believe (well, you of all people probably would!)!!! Wally showed up on our back patio Saturday afternoon, 31 days after he went missing.
He is the kitty that inadvertently got out the back door when the screen door wasn't fastened correctly. (He is 14 years old, declawed on all 4 feet, missing many teeth due to dental disease issues, and under chemotherapy for intestinal lymphoma and we live on a wooded lot, with owls and fox evident if you look.)
I had given up on ever seeing him again. On Friday, I had just finished writing all my thank you's to all of the neighbors, friends, well-wishers that called after seeing his lost ad in the paper, etc. I had changed his medical records in our hospital computer to "deceased" on May 30. My son was walking by the patio door and heard a meow, and went out to investigate, and THERE HE WAS–very skinny (had lost 3 pounds and he was underweight to start with) and very much our beloved Wally.
He seems to be in decent shape given his circumstances. We started him back on food and water orally slowly, gave him two days worth of subcutaneous fluids, and have subjected him to almost constant company, loving his very bony body. He is purring and meowing up a storm. I think somehow he must have been with someone else for at least part of the time. He wasn't as dirty as he should have been given all of the rain, hail, cold temps, etc that he would have been subjected to if he had been outdoors all of this time.
We will probably never know his whole story but he certainly is a lesson in perseverance. I had given up….my kids now will tease me forever that it is a good thing that I hadn't put the memorial stone I had gotten for him in the garden quite yet! He will need it some day I am sure and he will be buried under it with dignity.
Thanks for your support and all of your suggestions. I will add this chapter to my lengthy book that I will never have time to write. This one has a very happy ending and I thought you would like to hear of our fun news.
Thanks for what you do to reunite lost cats with their owners. The rewards must be outstanding!
Sincerely,
Pamela Ogden, DVM
Eau Claire, WI
"Pounder" is found after missing "6" days!
Thank you so much for helping us find "Pounder"! He is a very special kitty.
We had given up hope until we talked to you.
Pounder
Thank you again,
Rilee & Dike
Wilmette, IL
Indoor only kitty – trapped after missing "12" days!
Hi Lisa,
Furball is home!!!!! This morning, she was in the front trap we'd placed under the bathroom window where she'd last been seen. She's pretty mangy, much thinner, and one of her back feet looks a bit odd but otherwise she's in good shape! We're taking her to the vet in the morning to be thoroughly checked out.
Thank you SO much for all your help! We're so glad she is finally back home!
Betsy & Jim
Glen Allen, VA
"2" days later – "Jaxon" finds his way home!
Thanks so much for your information and support. Jaxon came home in the middle of the night last night. Other than being hungry, thirsty, covered in fleas and VERY tired, he is good. Nothing that food, water, advantage, lots of kisses and some good sleep won't cure! (see attached photo~priceless!) I will save your information and let others at Veterinary Medicine – University of Florida know about you. Although I didn't need your services for longer term, I was going to give it a shot if need be. Thanks again…keep up the good work!
Lauren
Program Assistant
University of Florida
College of Veterinary Medicine
Center for Environmental & Human Toxicology
After "6" days missing – "Hunter" is back home safe!
Great news!
We finally got him! A lady about a mile away from our house called because she had seen a cat going in and out of the storm drain in front of her house and her son had seen our flyers. I went out last night and couldn't find him.
But while I was working today, my sister went out and set up the humane trap we got. After checking the trap about every 2 hours from suspense, he was finally in it about 8 hours after she set it!!! Hunter seems fine aside from his front toes being worn down pretty badly (probably from all the walking around in the storm drains)……..we put peroxide on them. But you can tell he is very very happy to be home! I knew about those traps but if it wasn't for you telling us Home Depot sold them, we probably would not have got it.
Thank you so much for your help, God bless you,
Brandon Rockhold
Colorado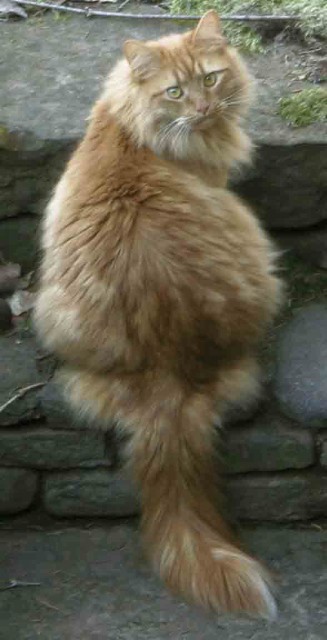 Outdoor access kitty-missing "4" days, found hiding in studio building on owners property!
Hi Lisa,
bundle
I FOUND HIM!
After the long story that I sent out a couple of hours ago, I can joyfully report that I found Bundle in our studio building. My husband had already checked there, so he must have been hiding–possibly in the darkroom. My husband did not use a flashlight, but just figured Bundle would come to him. Wrong thing to expect. Just as you said on your website!
I had gone up into the surrounding field looking for clues, following deer paths and I decided to check the studio one more time. As I approached the building, I saw him sitting inside on the windowsill! The building was locked, so I had to run hysterically downhill to get the key. Big joyful family event! When we went inside to get him, my former lap cat ran away–from me!–so unlike Bundle. You certainly do know your stuff! We believe that Bundle had been hiding up there since the night I heard the cry. We had been having some roof work done and the roofer must have left the basement door open. I know that door had been open, because our handyman who knew the cat was missing told me that he closed it on Thursday. So maybe he hid in there on Wednesday night to escape a foe. He has never been outside overnight before.
I'm sorry to have taken up your valuable time. I learned my lesson. Indoors for him hereafter and now we know there are coyotes nearby. I will tell anyone I encounter who has a missing pet about your services.
He is back on my lap. Many thanks and best regards,
Susan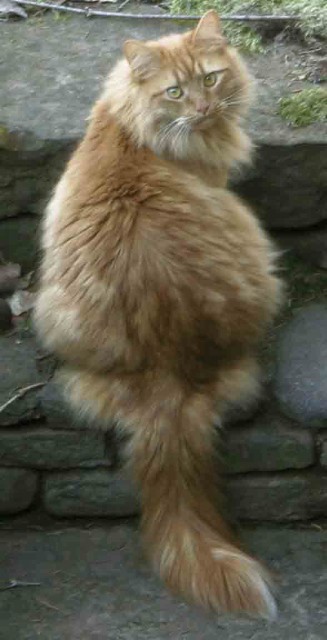 Hi Lisa,
Well we did everything you said, litter outside, smelly food outside, my husband just came home from work, saw the food was eaten, opened the door and In came Patricia looking pretty as ever.
I would not have known to do the things you suggested and your knowledge also gave me great confidence that she was okay and would come home.
I have already told everybody about you and if I ever hear of anyone with the same problem I will send them your way. It was the best money I spent all year.
God bless good luck and be well.
Sincerely,
Eileen, Joey, Margie, Danny & Jamie Latona and also Patricia's feline brother Allen and our dog Buddy!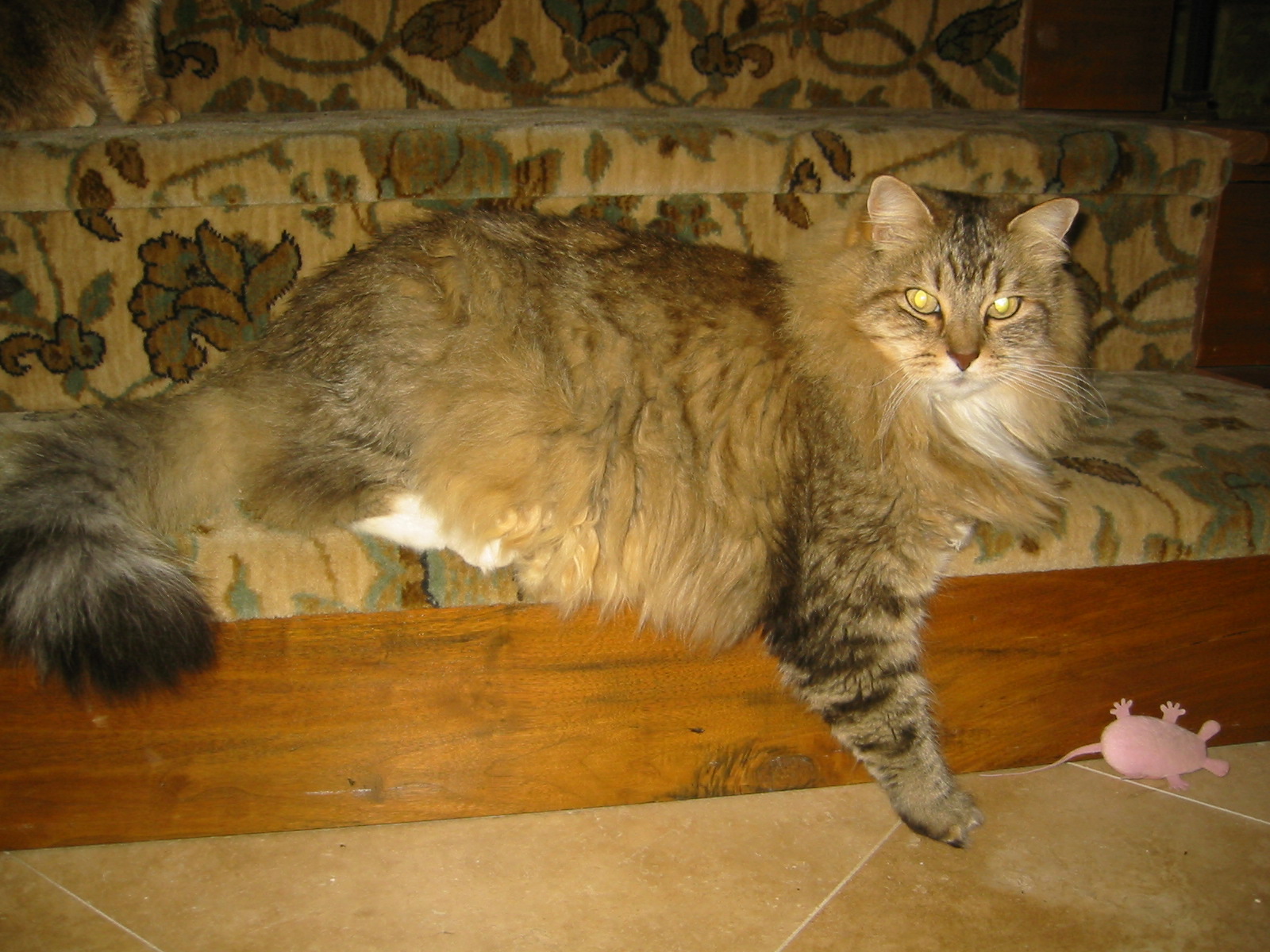 Welcome Home "Max"!!!
Found after 27 days locked in a garage.
Hi Lisa
Thank you so much for your encouragement on the phone to Darcy and me during the 27 days our kitty was missing.
I did nothing else for 2 weeks but look for him, make posters for telephone poles, notify the pound, pet hospitals, pet shops etc.
I also made fliers for our own neighborhood-50 houses two times and encouraged our neighbors to look in their garages and dead spaces. We had everyone notified that we could think of. We even tried the humane trap with tuna and litter box outside trick. Everyone got to know who Max was and who we are, were so encouraged. We live next door to a one acre jungle. I searched under every leaf so many times. Each time coming home so discouraged. After 3 weeks we just knew we would never see him again. He was an indoor kitty but had run out a few times when the door got left open. He just went next door to eat grass near our house in the jungle but I would always find him. We couldn't believe he would go farther and everyone would say "he's probably within 3-4 houses". Well, one evening about 5:00pm our 85 year old neighbor, with the jungle, just happened to go out to her garage. It is always closed up and full of storage, not cars. She saw a grey kitty, closed the door and called us. We dropped what we were doing and ran right over and could hear his cries. It sounded like Max. After 27 days, we were afraid to get our hopes up. She came and opened up the door and we couldn't believe our eyes, it was our Max. He had gone from 18 pounds to 11 and he was very weak and we'll never know what he ate, if anything, maybe bugs or mice. We did have some rainfall and hopefully some water crept under the garage door, we'll never know. But he's putting on weight gradually and doing very well and our house is so happy again with him back. He even seems to be even more of a people kitty, always wanting to be loved.
Thank the Lord! We don't think he could have lasted much longer and thank all the people who were helping and let us look through their yards. It truly is a miracle after 27 days.
Darcy and Kenneth P.
Three more lost cats FOUND!!!
Welcome Home!
"Scootie" – Largo, Florida
"Link" – Simi Valley, California
"Balckie" – St. Paul, Minnesota
"Rio" confirms that "Elaine" is definitely in the immediate area –
hiding very well!
After zipping out the door – "Elaine" is back inside after missing for "12" days!
Lisa,
Just wanted you know, we got Elaine five days after you did the search!
Our neighbor 3 houses south called this morning and said she thought that Elaine was up in her tree. Kevin ran down there and confirmed it was her! She was about 30 feet up, though. We called and called and she was talking to us, but we couldn't get her to come down. A friend of ours called a tree company, and the guy happened to be close by. He came over with his climber and they got her down!!!!
She is SO skinny – but appears to be fine otherwise. I'm taking her in to our vet in the morning.
Thank you for all your help – we're so thankful she's home safe now!
Lynne & Kevin H.
Lithia, Florida
Found after missing for "3" days and being hit by a car!
"Will" is back home and is expected to make a complete recovery!
Thank you so much for all your help in locating my lost boy "Will". I was devastated without him! He's recovering well from his hip surgery and should be back to his old self again really soon. I'll send you a photo as soon as possible.
Thanks again Lisa…………
You helped me save his life!!!……..and mine! 🙂
Walter B.
Cleveland, Tennessee
"Cody" – An indoor only, Maine Coon mix is found after "2" days missing!
Lisa:
Thank you so much for your help. My husband, Jeffrey, and I felt a lot more optomistic after getting your suggestions and helpful information on the nature of cats when they get lost. Cody is a little sore and I'm taking him to the vet tomorrow to get checked out. He has been sleeping most of the time but is obviously very happy to be home.
Merry Christmas and Happy New Year!!!
Betsy
Gaithersburg, Maryland
Missing for "8" days –
"Sannibel" finds her way back home!
Hi Lisa,
Thank you so much for helping me get my kitty back!
Sannibel was lost on Nov. 2, and after leaving wet food on the back porch every day, she finally came home to eat yesterday, Nov. 10. Thanks for offering helpful information to any cat-lover in need. Your site was a great help!
Leanne
New Bedford, MA
Indoor only kitty escapes out front door – Missing for "4" days –
"Boo Boo" is found in neighbor's backyard!
Hi Lisa…..
Boo was hiding in our neighbors' back yard. We went looking for him at night with a flashlight. He bolted and ran under a car. We lost him for a bit, but found him burrowed under some bushes a few houses down. we tried to coax him out, but again he ran. He was so freaked out!! Then we cornered him under a neighbors' front deck. It was built so that he could only enter/exit one way. So we had to stomp on the deck to get him out. I caught him in my arms when he tried to run out from under the deck. He was still pretty disoriented and didn't "recognize" us until we got him home. Now he is one HAPPY kitty. Purring and relaxing away. We are so elated!!!
Thank you so much….
Nik
Bellevue, Washington
Missing for "2" days – Found up a tree
"Tabbers" is home!
Dear Lisa,
Last night, I called Tabbers for about the 100th time, and this time he answered. He was 30 feet up a neighbor's tree 2 houses down! We think he had been there for the whole 50 hours after being chased by a neighbor's dog, including during a 10 hour rainstorm. The homeowner was an electrician with a long ladder, so he and my husband got him down quickly, and he seems fine. The first thing he wanted was to go back outside!
Thank you so much for your help. Even though I had scoured the neighborhood, your information on friendly cats kept me calling him from our yard and I had put out food and clothes with our scent to entice him.
Sincerely,
Emily S.
Fairfield, Connecticut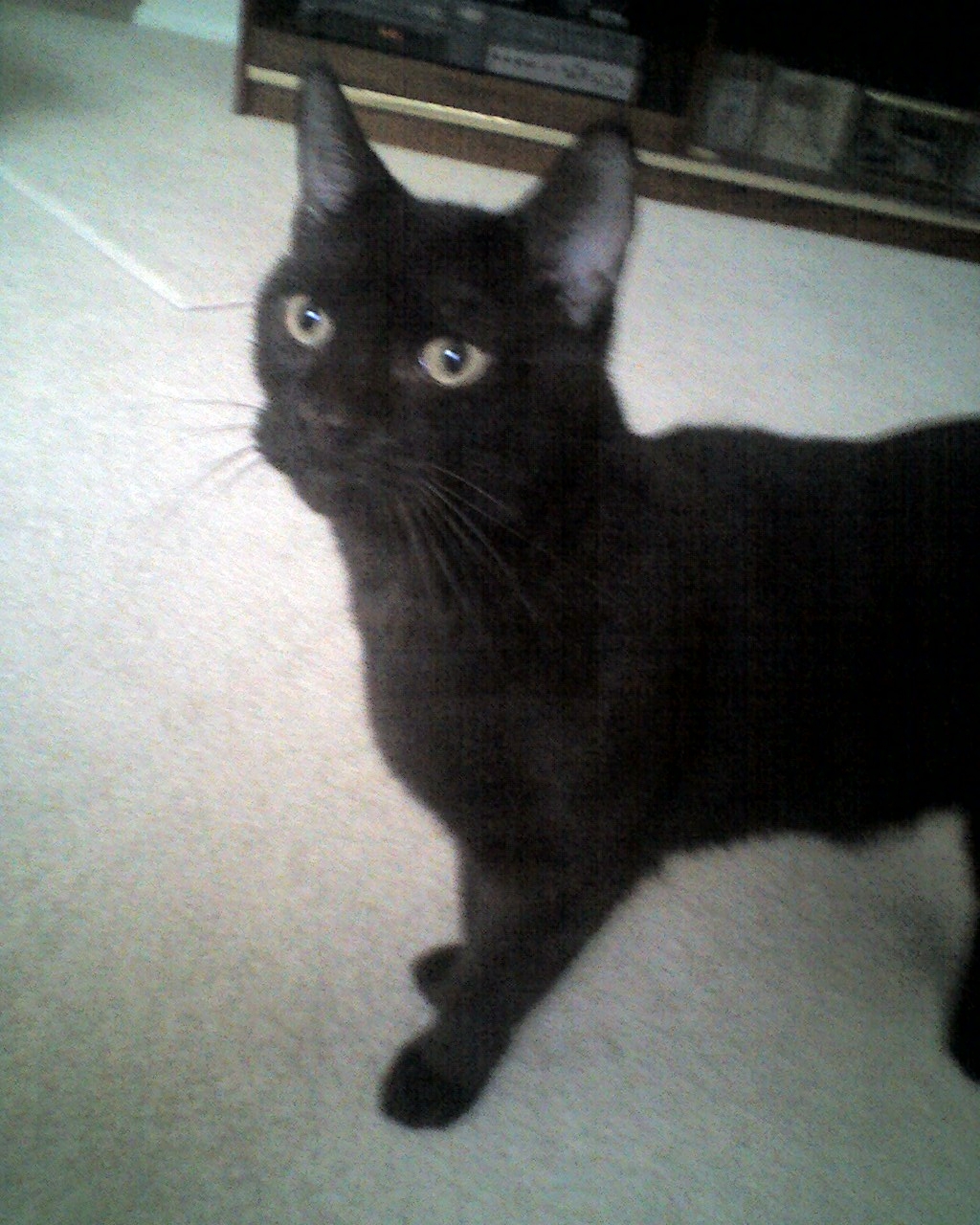 Trapped for "5" days in a vacant condo attic –
"Killer" is finally rescued!
Lisa,
You are a miracle from God. I tried the sardines and cigarette smoking all last night walking along the fence line. A cat could be heard crying and crying but no sight of it. The Fire Dept has been here all morning and they just found my cat…… day 5….. alive and thirsty and sealed in an attic of a vacant condo on the other side of the fence in a different complex. No one knows how it got there. I am convinced that placing the smelling sardines and smoking non stop while calling his name helped him recognize I was near and he started to cry. A neighbor to that unit heard a cat cry all night and he allowed the fire dept to come into to his unit.
Its only been a few minutes since I got him returned and he is drinking a lot of water and hungry. Thank you for telling me not to give up. Had I of not talked to you…….I would have.
You were such an encouragement. I hope that others will be encouraged. I was very lucky to have the Orlando fire department respond to the call when residents from a nearby complex and myself heard little "Killer" crying, yet no one could reach him or even identify for sure where the constant cry was coming from. The cry seemed to move back and forth and was very high up. The kitten was not visible at all. At first the fire dept thought he might be trapped within the walls of the building which housed many condominiums. After several inspections of the building and looking for possible openings they could not see Killer, but kept hearing his cry. Finally, the fire men noticed the possibility of him being in an attic above any one of the many units. After searching and narrowing in on the sound, he was located in a vacant condominium's 2nd floor attic. No one knows how he got there. When he was found on Tuesday, it was 5 days that he had been missing. Although he was trapped and never got to enjoy the sardines that were left out, little "Killer" probably heard the other neighborhood cats out there eating them and began to cry.
I will say that I prayed very hard for my cat to be found alive and I entered into serious talks with God. For encouragement to others, here are a few of my transcripts of my conversation with God just minutes before the first cries were heard. I recited Bible scriptures over and over and reminded God of his word. I said, "Jesus, it is written that you said you came to set the captives free". I then added, "You said to go into all the world and preach the gospel to all ye creatures." "And, Lord, you said that all that call upon your Name shall be saved". "You didn't specifically limit these scriptures to humans in my Bible." "You made all the animals, please dispense angels and free my Kitten from where and however he is captive" "thank you, in Jesus name."
I hope this helps everyone.
Lisa, I believe that you were a tool used by the Lord. Thank you. May you be blessed for all your compassion that you have for the animal life that He created. My Lord is powerful and He stands by to perform his Word.
I thank you, the firemen, and God.
Jodi –
Orlando, Florida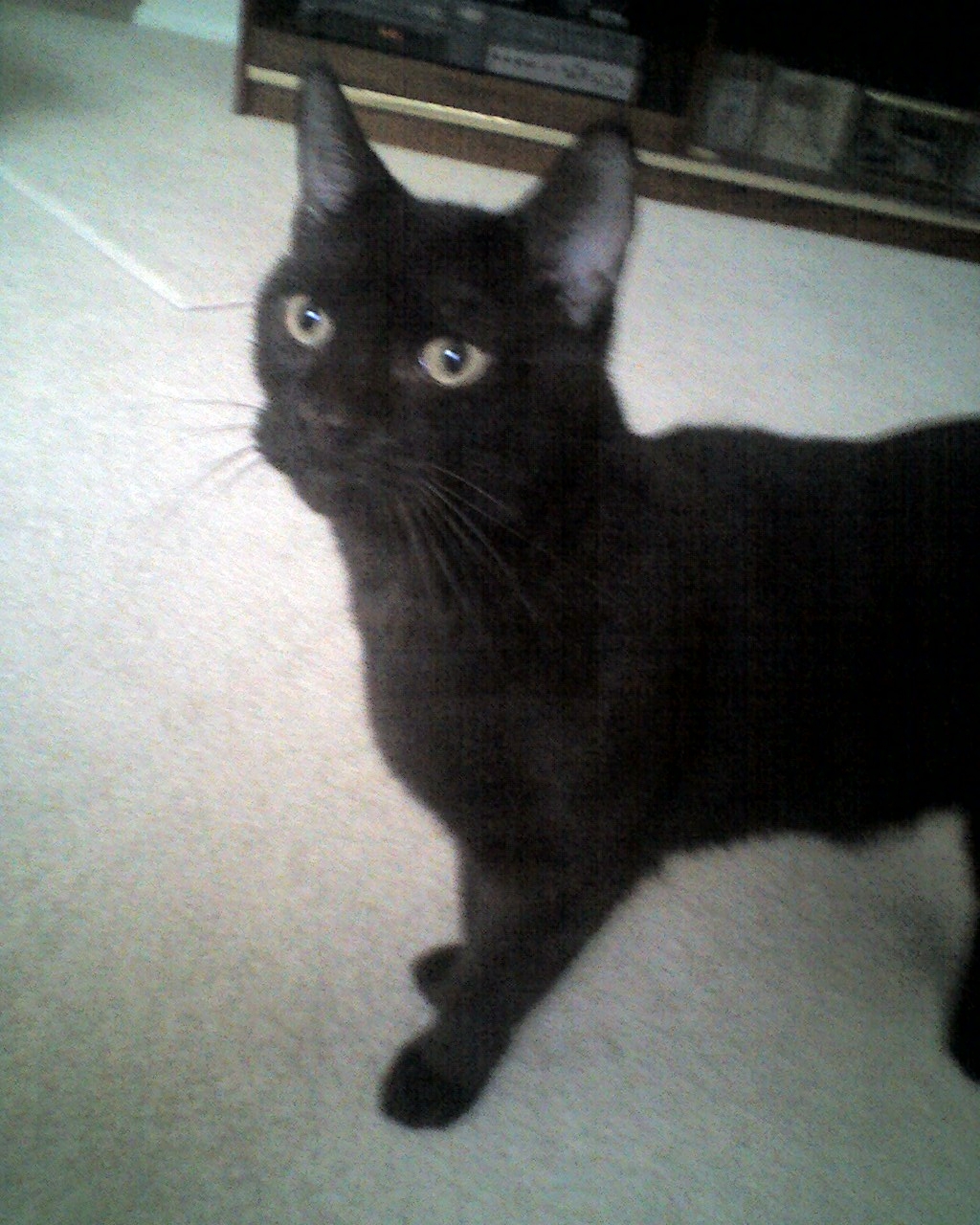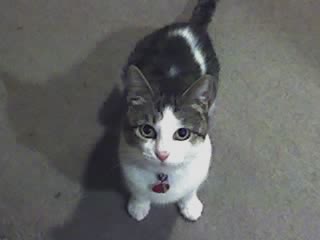 Welcome Home "Angel"
Missing for "6" days after getting spooked
by the screen door –
"Angel" is FOUND!!!
Dear Lisa:
As you know, Angel is now home and safe in her bed. I am watching her wash her face like nothing ever happened. Six very long days missing and with her disabilities I didn't think she could make it out there. She dragged herself to our door as a stray with a broken back a year and a half ago. It took months of daily exercise/therapy to get her on all fours again. While she got around ok in the house I wasn't so sure she could survive on the outside and I knew how scared she had to be out there. When she showed up Wednesday in our own yard I was so excited, even though she went to hide behind/under our shed, at least I knew where she was, or so I thought! Having a neighbor, that lives five houses down, call on Friday to say she was in her yard was quite a surprise. And scared she was, hiding under her platform deck too terrified to come out.
The trap and Jack Mackeral did the trick. You were right, she never left the neighborhood and thank God she didn't, as you know we live in a very populated and industrial area. Your techniques are solid advice and your patience and support were much needed during this trying time. Thank you again for all your encouragement.
Keep up the good work! And, may God Bless you always.
Peggy
Bayonne, New Jersey
Displaced and Hiding –
"Bago" is found after missing "8" days!
Dear Lisa,
I wrote to you this morning to thank you, and now I'm writing again to say I found my cat! With the information you gave me about displaced cats, I realized there was a pretty good chance that Bago was in a little storeroom under the porch–it's just the kind of place he likes to hide–even though he didn't come out when we went there and called several days ago. So tonight I went right outside the door with a bowl of wet catfood and a spoon, and just mushed it around a bit and let the spoon clink on the bowl, and just after I set it out I heard a definite "meow" and then Bago came out and ate. I talked to him really quietly, and after a while I tried petting him and he let me, so I grabbed him around the middle and ran back inside!
He's here right now, whining and complaining as if this is all our fault. And I have never heard a sweeter sound.
"Thank you" doesn't really do it justice, but: thank you. So much.
Els Kushner
Burnaby, BC, Canada

After "4" days missing –
"Toby" is found inside, in the window of a vacant apartment!
Thank you so much! I searched the bushes last night and looked up and my cat was clawing in someone elses window! I think he saw me. He must have snuck in while the people were on vacation somehow. But I called managment and they got my cat out. Thank you again………….I couldn't be happier!!
Here's a picture of Toby. If it helps anyone…….. he once got lost for three weeks and animal control found him w/ no tail. So don't give up to soon when searching for a lost cat.
Thank you so much again, your every kitty's angel.
Tara S.

Two more found on October 29, 2007
"Missing for "2" long days – "Pescha" is found!
Shauna Eugene, Oregon
Outdoor Access kitty missing for "4" days – "Mittens" is found!
Amy R. Escanaba, Michigan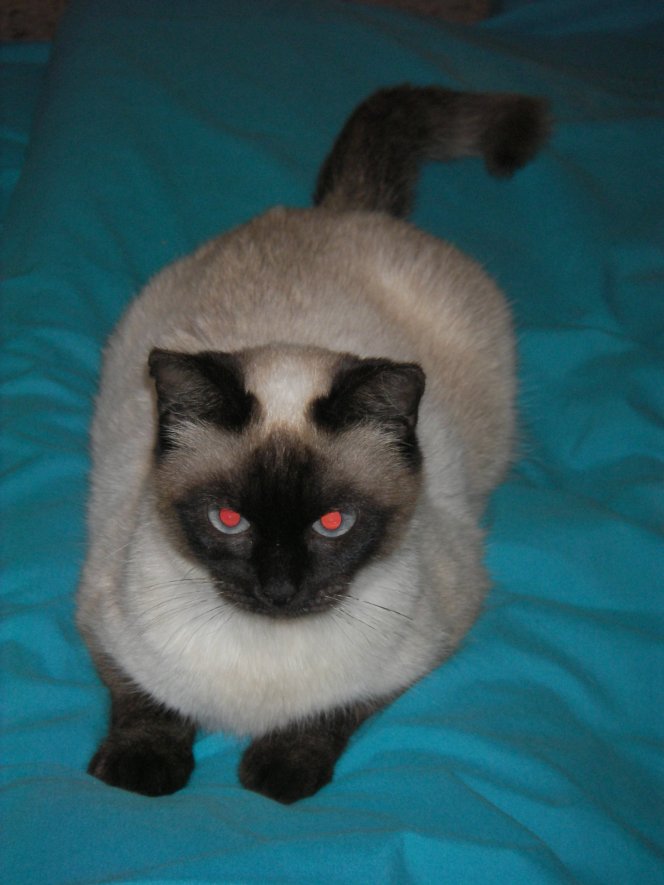 Welcome Home "Belle"
The New Orleans girl is back!
During our search in New Orleans….."Rio", the K-9 tracking dog, positively indicated and confirmed that "Belle" never crossed the street and remained hidden in the area near her point of escape! She traveled the fence row occasionally in her search for food, but never left the immediate area. After being lost outside for "19" days………and only "4" days after our search…….."Belle" finally emerged and was spotted by a neighbor. The neighbor immediately contacted the owner, who then quickly ran outside to call for "Belle".Belle002
Meowing happily…………"Belle" trotted into the arms of her owner! Once again……….safe and indoors……….."Belle" is glad to be home!
*A special thanks to Elizabeth and Brent for constructing and cooridinating "the Belle Search Campaign" and for trapping and altering all the other cats in the area while searching for "Belle"!
Also thanks to the people in the area who tolerated us knocking on their doors, placing traps near their properties and for enduring the wonderful smell of jack mackerel poured around their property…………without to much complaining! 🙂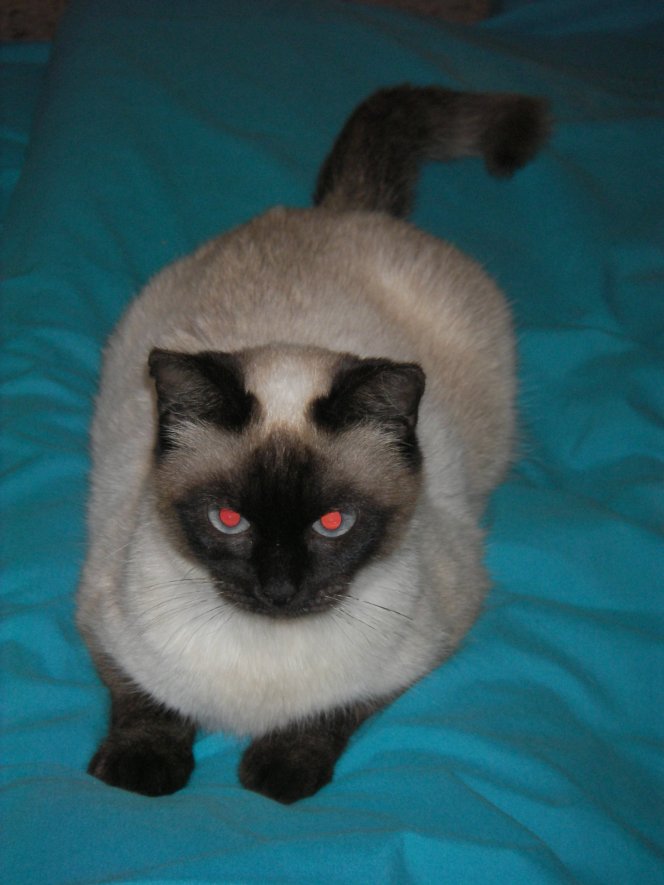 "Baby Girl" is back home after missing for "5" days!
Hi Lisa, I found her!!!!!!!! Thank you so much! I had put flyers out and a lady heard her meowing in her storage shed. I bought the trap but did not need to use it.
I will recommend many to your site.
Thank you so much for your help,
Angela
Haddonfield, NJ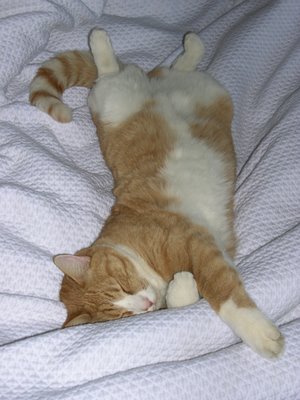 After "7" days missing –
"Charlie" is FOUND!!!
Charlie was diagnosed with hypertrophic cardiomyopathy (HCM) back in February. This means that the left ventricle in his heart is both hardened and enlarged. He additionally suffered seizures from the lack of blood flow to his brain from HCM. Since then doctors have put him on 3 types of medicines for life, two times a day.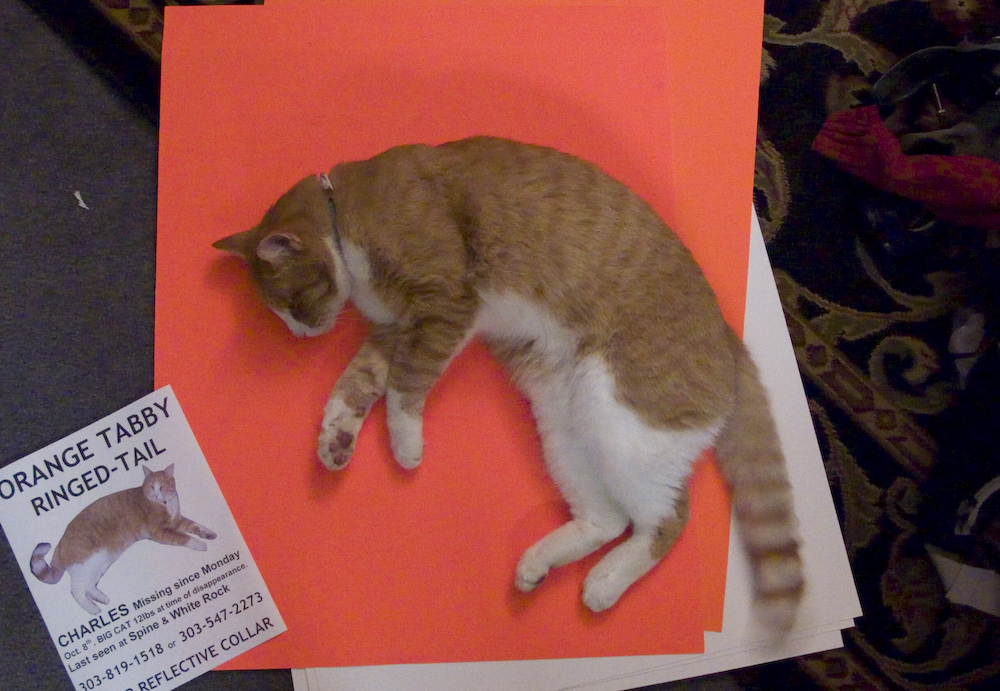 We had just moved on Oct. 1st and Charles got out of the house one night not to be seen for 7 long days. Not only did we not have any idea where he went, but the clock was ticking for the sake of his heart. And to make my own heart sink even more, the 5th day brought us cold weather with temps in the 30's at night and nearly 36 hours of straight rain. As the days crept by I didn't want to give up hope, but the thought of his heart shutting down and possibly preventing any survival skills to remain sharp for him was a difficult one to bear. Thanks to Lisa's great encouragement and intellect on cat behavior and providing a solid to-do check list, the very next sunny day when good ol' Charles showed face a neighbor had seen our bright orange posters and knew to phone us. What's more is when we arrived to pick him up, he was in great shape! Skinny and clearly tired, his heart and lungs couldn't have been better, much to the surprise of even the vet when I phoned them in my own disbelief!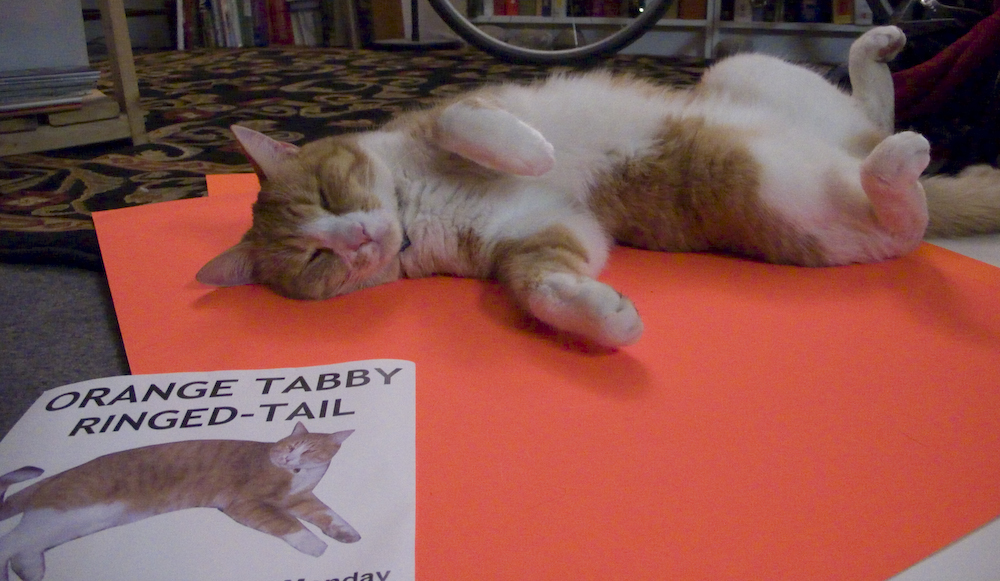 Lisa you were so instrumental on getting him home and a great person to talk to when such a loved one "vanishes". There needs to be more people like you in the world.
When he first got home…the first thing he laid on was the left over orange poster board that was actually used for the sign that got him home….next to a copy of the picture we used on it too!
Best wishes to you and everyone who ever needs to do a search for someone,
Sheila, Dan & Charles,
Boulder, Co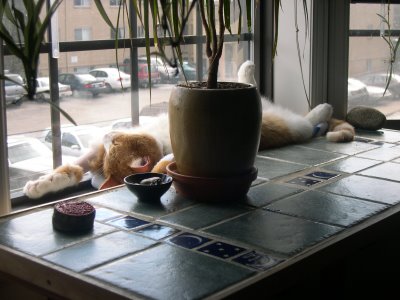 Missing for "4" days – After escaping out a back door –
"Bullet" is back home!
While having a new back door put in……."Bullet"…….. an indoor only kitty, couldn't resist the temptation of outdoors! After his "4" day adventure outdoors, "Bullet" is grateful and happy to be back inside!
Thank you for your help and advice in the return of our lost boy, "Bullet"!
He won't be escaping again!
Molly
St. Louis, MO
Scared and hiding for "10" days – "Sunny" finally breaks his silence!
Hi Lisa:
Best possible news – Sunny showed up this morning at 5am as husband was leaving for work. He is happy and healthy and trying to meow alot and tell us his tale.
He is also under house arrest…… 🙂
Ok – Here he is, home, happy and safe. Take your pick- let me know when he's up and we will check out our famous kitty.
Thanks so much for your help.
Call today for a Complete
Consultation!

Expert Advice and Instruction to help you
find your lost cat!